CHUTES International™ Is Completely Dedicated To Delivering The Newest, Most Innovative Debris Removal Systems, And Backing Them With An Absolute, Uncompromising Service Guarantee
We strive to completely revolutionize the debris removal marketplace. Our goal is to produce new, innovating products made from exceptional materials, offer them at an affordable rate, and provide each customer with exemplary service. When you work with us, you'll soon realize that we'll do whatever it takes to deliver complete satisfaction to each and every customer.
When the market demanded a better chute, we answered the call. Before CHUTES International, most chutes were poorly designed and lacked quality manufacturing. We, in fact, purchased chutes manufactured by other companies. They were difficult to assemble, they clogged easily, and sometimes even broke because they were not made of durable materials.
However, no manufacturer offered a chute that solved these problems. So, we decided to solve the problem ourselves, and construct our own chutes that would revolutionize the industry.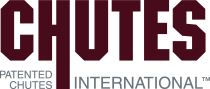 Integrity
Always doing your best - even when no one is watching.
Loyalty
Always act in the best interest of the company.
Accountability
Always own your work and mistakes. No finger pointing.
ALL IN
Passion about what we do. Maximum effort at all times.
Improvement
Always looking to get better. Finding problems is good!
We aim to set the standard for the whole industry, for both products and service, and that starts with our people. Our team is known for providing excellent service and value to our dealers, distributors, and general contractors alike – just see what they have to say about it. None of our success would be possible without the many dedicated, skilled and hard-working team members under our umbrella, and we strive to return the favor by helping them develop their career skills for our company and beyond.
Click each node to learn more about our values.
Manufacturing and Production
We Didn't Need To PROVE That Manufacturing A Chute In America Was Better Than Attempting To Manufacture Them Abroad… Others Proved It For Us
Other manufacturers decided it would be a good idea to try and build their chutes and debris removal systems in foreign countries to try and take advantage of cheap labor. They did not foresee the problems they would encounter when they made that fateful decision. However, years later the results are unmistakable:
The "savings" are devoured with higher, international shipping costs
They have difficulty achieving and maintaining acceptable quality
There are delays upon delays… the further away the manufacturer, the more logistical problems they face
They hoped to manufacture debris removal systems on the cheap. What they actually got were management nightmares, unexpected additional costs, and defective materials.
Take a survey of general contractors who've tried to use chutes that were made by one of these "outsourced" competitors of ours and they'll confirm what we've always known: the best chutes are built right here in America.
Made in the USA
At CHUTES International we eliminate the surplus expenses, the uncertainty that accompanies foreign manufacturing, the questions that come with employing distant (and cheap) workforces, problems with quality assurance, the miscommunications, and the unnecessary additional shipping charges that come with making a product overseas. The result: you get more value for your dollar.
We eliminate the excessive mark-ups and inflated logistics costs so you can have the world's premier debris removal chutes for about the same price as those typical, outdated systems
Our focus on quality makes our chutes more expensive to manufacture. We knew that had to keep our costs low in order to be competitive.
Because of the quality of our chutes, people are surprised to find that our prices are on par with our competitors. There is no doubt it is more expensive to use the higher quality materials. However, we estimate that the perceived advantages of using cheaper materials and outsourcing to foreign manufacturing or working overseas is actually swallowed up by the additional 20% – 40% cost of shipping, returns, warranty claims, and compromised brand loyalty. So we decided to stick with quality, and challenged our team to make it affordable.
Old-Fashioned Service, Modern Innovation
Our innovative use of design and technology make our chutes the premier debris removal systems in the world, but we still conduct business the old fashioned way. Technology is a tool we use eagerly – to improve quality, speed processes, aid in communications and provide added services for our customers – but it remains a tool, as our preferred method of doing business is personal. We won't hesitate to pick up the phone and contact you personally. Our preferred way to do business remains face-to-face, so we can look you in the eye and shake your hand.
The Forefront of the Industry
Our first product was our heavy-duty steel chutes, then we added durable plastic chutes to the mix a few years later, and then moved into internal chutes, compactors, service, odor control, and more. Who KNOWS what will be next? We remain flexible and eager to meet our customer's demands and needs! Our "one stop shop" for chutes makes contracting, purchasing and relationship building easier for you.
The Proof is in the Details
See for yourself why our chutes are a cut above the rest. Contractors choose CHUTES International because we created, designed, and patented chutes that solve common problems, and because we do not compromise the quality of the materials we use in our manufacturing process. In fact, since 1989 we've led the industry in safety training and features, new product development, product improvement, customer education, training and support.
While we've grown in product line, personnel and territory since our start in 1989, we've remained dedicated and determined to keep a 'family feel' to our company. Our customers, our employees, our vendors, our reps…are all of vital importance to CHUTES!
Great Place to Work® Certified
Affiliations and Accreditations
While we believe that our quality engineering and meticulous customer service speak for themselves, you don't just have to take our word for it. Check out a full list of our professional accreditations and industry affiliations below.
CHUTES International proud to serve customers all across the country from our headquarters in Waldorf, MD. This location contains our production facility, service department and administrative offices, making it especially convenient to our customers in the Washington D.C. metro area.
Keeping all of our company functions under one roof also gives us the opportunity to hire for a diverse range of positions, from skilled trades to production management, marketing, logistics and beyond. Think you'd be a good fit? We'd love to hear from you!